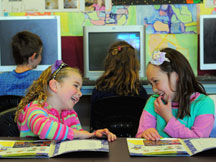 Kiaora welcome to Ridgway School
Ridgway is a state co-educational full primary school, located in southern Brooklyn.
The school has a pleasant setting on expansive grounds and is ideally placed to make the most of all the advantages our capital city has to offer. The majority of our 200 students come from the suburbs of Mornington, Vogeltown, Brooklyn and Kingston.

Staff
Meet Julie Scandrett, Acting Principal of Ridgway.
More to come soon...
What's On
Board of Trustees Elections 2013
Declaration of Parent Election Results
At the close of nominations, the number of vacancies matched the number needed, I hereby declare the following duly elected:
Richard Allen
David Bagnall
John Jarvis
Claire McCann
Helen Robertson
Notice Board
For the latest Board of Trustee's Meeting Minutes
To view the 2012 National Standards Information for parents follow this Link...
Term Dates 2013
Term 1: 4 Feb to19 April
Term 2: 6 May to 12 July
Term 3: 29 July to 27 Sept
Term 4: 14 Oct to 18 Dec





Photo Galleries
Supported by