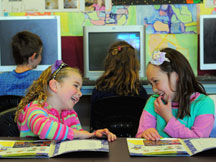 Kiaora welcome to Ridgway School
Ridgway is a state co-educational full primary school, located in southern Brooklyn.
The school has a pleasant setting on expansive grounds and is ideally placed to make the most of all the advantages our capital city has to offer. The majority of our 200 students come from the suburbs of Mornington, Vogeltown, Brooklyn and Kingston.

Staff
Principal's Blog:
The trip to the Marine Reserve was an opportunity for students to develop the key competency, "participating and contributing".
What's On
Ridgway School Fair
Sunday 30 March



3 Way Goal Setting Conferences for students in Years 4-8, will be held from April 1-10; late nights on Tuesday 1 April & Wednesday 9 April


​Monday 10 March
Swimming Juniors 10am -11am; Middle & Seniors 11am -12am

Thank you Parents, for keeping the Mornington Road parking space clear for our buses between 9am and 12.30pm.
Tuesday 11 March
Wednesday 12 March

Marine Education Centre Trip - Rm 9-10, 9am - 11am

(and Y6s from Rm 8 who are going snorkelling)
Friday 14 March
Notice Board
For the latest Board of Trustee's Meeting Minutes


Mathletics
Mathletics is compulsory for all students in Years 4 - 8, and a charge is payable to cover the cost.
It is one of our most important homework activities and is also used in class when students are not working with the teacher.
NZ Maths Link
Follow this link if you are interested in sourcing useful maths resources.





Photo Galleries
Supported by