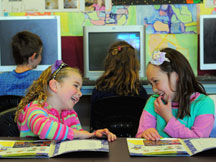 Kiaora welcome to Ridgway School
Ridgway is a state co-educational full primary school, located in southern Brooklyn.
The school has a pleasant setting on expansive grounds and is ideally placed to make the most of all the advantages our capital city has to offer. The majority of our 200 students come from the suburbs of Mornington, Vogeltown, Brooklyn and Kingston.

What's On
Term 3 starts Monday July 21
Miniball responses due by July 23.
Chess Tournament - responses needed by July 25
Please view the school calendar to check dates for upcoming events.
Notices
Powerpoint Presentaion - Parent Community Meeting 21 May 2014
For the latest Board of Trustee's Meeting Minutes



Art Splash
All children in Year 4-6 will be involved in Art Splash this year. Participation by Year 7 & 8 students is optional.
We encourage you to purchase a Ridgway Art Splash t-shirt for the performance at the Michael Fowler Centre in September. These can be ordered from the office.








Photo Galleries
Supported by