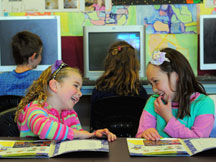 Kiaora welcome to Ridgway School
Ridgway is a state co-educational full primary school, located in southern Brooklyn.
The school has a pleasant setting on expansive grounds and is ideally placed to make the most of all the advantages our capital city has to offer. The majority of our 200 students come from the suburbs of Mornington, Vogeltown, Brooklyn and Kingston.

What's On
find out about the Kaka Project
Wed 23 Oct: 9am - staffroom
Thurs 24 Oct: 6.15pm - library
Athletics (Rooms 6 - 10 only) - Friday 17 October at Newtown Park.
Mini ball is back for Term 4 - contact the Office quick to sign up.
Blue Mountain Adventure Camp - Y7 - 8
28 - 31 Oct
Forest Lakes Camp - Y4 - 6
4 - 7 November
Please view the school calendar to check dates for upcoming events.
Notices
School Refurbishment
In 2015 our school refurbishment will take place. This will involve upgrading classrooms to meet the standards of "Modern Learning Environments". Our community will have opportunities to be involved during the design consultation phase, which should soon get underway.
When this work begins there will be a small amount of disruption to our normal school organisation as we will need to temporarily move classes so that children's learning continues while builders get the job done.
Students and parents will be informed about how we will manage this process (to maintain a safe learning environment for our children) at the earliest possible time.





Photo Galleries
Supported by