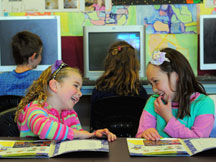 Kiaora welcome to Ridgway School
Ridgway is a state co-educational full primary school, located in southern Brooklyn.
The school has a pleasant setting on expansive grounds and is ideally placed to make the most of all the advantages our capital city has to offer. The majority of our 220 students come from the suburbs of Mornington, Vogeltown, Brooklyn and Kingston.

Staff
Principal's Blog:
 Catering for diverse learners in schools today requires us to teach differently and to organise our school differently to the past.  Children's experience of going to school at Ridgway in 2015, should be very different to their parents experience of school.
What's On
Capital E National Arts Festival 2015 Junior and Middle School Wednesday 11 March Senior School Tuesday 17 March
Friday 6 March - join Room 6, 7, and the Year 4s from Rs 9 & 10 when they walk to Central Park to see the Upstream Arts Trail.
12 - 3pm
Notices
Click here for our latest

Photo Galleries
Supported by