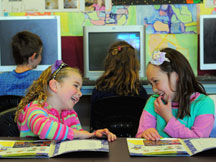 Kiaora welcome to Ridgway School
Ridgway is a state co-educational full primary school, located in southern Brooklyn.
The school has a pleasant setting on expansive grounds and is ideally placed to make the most of all the advantages our capital city has to offer. The majority of our 200 students come from the suburbs of Mornington, Vogeltown, Brooklyn and Kingston.

Staff
Principal's Blog:
We are slowly introducing changes to our classroom organisation to more closely reflect a modern learning environment. Parents of children in Rooms 1-3 will be noticing some of these changes.
What's On
Term 3 ends Friday 26 September
Please view the school calendar to check dates for upcoming events.
Notices
SNUP (School Network Upgrade Project)
During September workers from ENZEC will be in the school to upgrade our computer networks.
This company have completed SNUP work throughout Wellington and have appropriate procedures in place to ensure minimal disruption to children's learning and maintain high safety standards.












Photo Galleries
Supported by