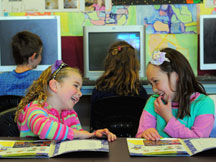 Kiaora welcome to Ridgway School
Ridgway is a state co-educational full primary school, located in southern Brooklyn.
The school has a pleasant setting on expansive grounds and is ideally placed to make the most of all the advantages our capital city has to offer. The majority of our 200 students come from the suburbs of Mornington, Vogeltown, Brooklyn and Kingston.

Staff
Principal's Blog:
Well done and thank you to everyone who helped make it possible. It appears that we've made over $19,000.  Fabulous!
What's On
Thank you for supporting the Ridgway School Gala - it was a great success!
Monday 14 April
Swimming is now finished.
Tuesday 15 April
Football Tournament Year 4
Wednesday 16 April
Thursday 17 April
Last day Term 1
Assembly 2.15pm
Term 2 starts 5 May
Notices
For the latest Board of Trustee's Meeting Minutes


Mathletics
Mathletics is compulsory for all students in Years 4 - 8, and a charge is payable to cover the cost.
It is one of our most important homework activities and is also used in class when students are not working with the teacher.
NZ Maths Link
Follow this link if you are interested in sourcing useful maths resources.





Photo Galleries
Supported by