Grounds and buildings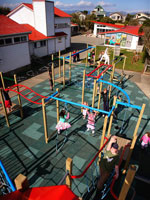 Ridgway is a well-resourced school with a well-stocked library and a selection of electronic devices available for student use.
Our children have a variety of playing areas including a netball court, a large playing field and an adventure playground, as well as various other smaller spaces.
2020 was the beginning of our buildings and grounds transformation -link to the building diary.
Our new school building was finished in July 2022 and we finished the big move in time to start Term 3 in there.
All classes are now in the new building, on the corner of Mornington Road and The Ridgway. 
Work is currently being undertaken to transform the space where our old school building was, into a multipurpose track.
Below the school is a playing field maintained by Wellington City Council where many of the school's sporting activities (and weekend sporting fixtures) are held.
Left: WCC Sports field situated below the school