COMMUNITY NEWS AND EVENTS
BigAir Gym Holiday Programme
BIGAIR GYMS popular December Drop & Shop Holiday Programme is back, running Mon 18th - Wed 20th December 2023! Full day and half day sessions are available. This is a wonderful opportunity for kids to keep active, while you get those final pre-Christmas preparations done! BIGAIR GYMS January Holiday Programme is also running Mon 8th - 26th Jan 2024. Bookings are open online now at www.bigairgym.co.nz
Please contact us with any inquiries:
Bigair Gym Owhiro Bay: ph. 383 8779, e. wgtn@bigairgym.co.nz at 14 Landfill Road, Owhiro Bay.
Bigair Gym Tawa: ph. 232 3508, e. office@bigairgym.co.nz at 10b Surrey Street, Tawa
WCL Summer Reading Adventure
This summer, Wellington City Libraries is inviting kids, teens and adults on a Summer Reading Adventure! From the 1st of December 2023 – 31st of January 2024, you'll be able to log your reading, write, draw or film book reviews, and complete activities and challenges to earn rewards like collectible badges, free books, ice-cream vouchers, and go in the draw to win one of our fabulous Grand Prizes.
Visit the library website today at wcl.govt.nz/summerreading to pre-register for the Summer Reading Adventure, or visit any of our libraries from the 1st of December to pick up your Adventurer's Guide and get started.
Goodtime Music Academy

Get ready to ignite your child's musical passion! Goodtime Music Academy teaches at Ridgway School and is offering award-winning in-school music lessons. Say goodbye to post-school commutes! Dive into the world of music in a vibrant group setting with the following instrument lesson: Drums, Guitar, Keyboard, Ukulele, or our 'Intro to Music' course. But the excitement doesn't stop there! Your child will have the chance to shine in our thrilling concerts.
Act fast, as spots are limited. Enrol now at www.goodtimemusicacademy.co.nz/learn-at-school or call us at 04 568 2237. Your child's moment in the limelight awaits!
Big Air Cheerleading

Does your child love dance, gymnastics, and tumbling? Cheerleading at Bigair Gym is a highly dynamic and skilled sport that provides opportunities to develop not only athletic skills and fitness but also leadership, discipline, and teamwork. This makes it a multifaceted and highly rewarding sport. Bigair has one of the finest cheerleading programs in the country, offering exceptional pathways for development as athletes progress and enter competitions.
Tryouts for the 2024 Cheer Teams are currently taking place, so don't miss out on this amazing opportunity. Contact Bigair today to confirm your interest or to find out more.
Bigair Gymsports Kapiti ph. 297 0400 e. kapiti@bigairgym.co.nz
Bigair Gym Owhiro Bay ph. 383 8779 e. wgtn@bigairgym.co.nz
Bigair Gym Tawa ph. 232 3508 e. office@bigairgym.co.nz
Bowls in the Bay


Earth Fest


Free Swimming Lessons for Women and Children - Location Changed



Brooklyn Junior Cricket Club




PNP Spring Mountain Bike Series


Bigair Gym
If your child loves doing cartwheels, handstands, trampolining, flips, dancing, or parkour, then they will thrive at Bigair Gym! Bigair Gym classes are excellent for fun, focus and fitness! Children learn new skills and develop personal confidence and self-achievement! Strong focus is given to safety and technique, ranging from fundamentals to advanced skills. The structured classes follow a Bigair Badge Programme, which creates focused learning, and allows children to achieve and feel personal progression! Bigair classes include GYMNASTICS, TRAMPOLINING, TUMBLING, FREE RUNNING(thats parkour with flips) & CHEERLEADING! Inquire about Bigair BIRTHDAY PARTIES too!
GET IN QUICK FOR TERM 4 GYM CLASSES & BIGAIRS POPULAR HOLIDAY PROGRAMME! Bookings are open NOW. Book online at www.bigairgym.co.nz or contact your local Bigair Gym office today.
Bigair Gym Owhiro Bay ph. 383 8779 e. wgtn@bigairgym.co.nz
Capital BMX 
Cooking Lessons - In French!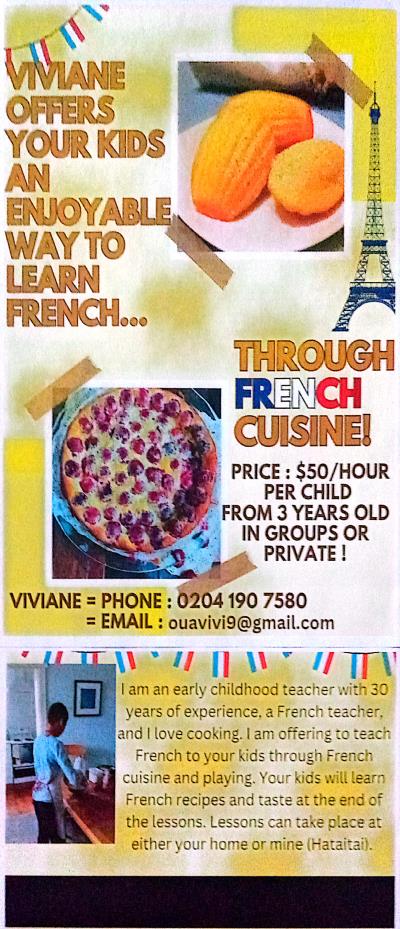 Brooklyn Northern United Football Club
After School and Saturday Computer Classes
Our term time classes are smaller just 3 to 6 children.  Classes are focused on what you want to learn. Class runs from 3:30 to 5:30 pm class fee $45 or 10 sessions $400 (doors open from 3:15). Saturday 1:30 - 4:30 pm. class fee $65 or 10 sessions $600.
Learn to Code Scratch, Python, Java, JavaScript, or Learn to Code & Create 3D Games, Minecraft, Roblox, and A Discovery Course in Computing (suitable for younger children), Build Your Own Computer.

For information & bookings 499-2211 or

 

grandtraining.co.nz
Spotlight Performing Arts
Your local Performing Arts School.
Dance, Drama and Singing for students aged 4-15 yrs old.
Led by a London West End performer!
AOTEA-JOHNSONVILLE-KARORI-LOWER HUTT-NEWTOWN-UPPER HUTT
Book your child's two-week trial for next term NOW!
www.spotlightperformingarts.co.nz
Wellington Music Centre
Join us at the Wellington Music Centre for an exciting and enriching musical journey! Our affordable, diverse, and quality music education is tailored to suit all ages and skill levels. Whether you're a beginner or already play an instrument, our experienced and passionate teachers will help you develop your talents and discover the richness of learning music!
We offer tuition in strings, brass, woodwind, percussion, guitar, ukulele, keyboard and singing, and teach a broad range of musical styles. Lessons only cost $120 for the whole of 2023, with discounts for students learning multiple instruments, or multiple children in the same family taking lessons.
We are particularly excited to announce our new pre-instrumental programme for kids ages 5-6, designed to give them a fun, playful start in music. It's never too early to discover the joy of music-making!
Enrollments for 2023 are still open, and we'd love to have you join us for the rest of the year. To learn more about our programme, please visit our website at www.wellingtonmusiccentre.org.nz or email us at contactus@wellingtonmusiccentre.org.nz. Kia ora koutou!
Vogelmorn's Best Quiz

Local Drinks | Quiz | Prizes | Tasty Kai
Vogelmorn's Best Quiz! Written and Hosted by Ordish
Secure a spot and come jump in on a classic, family friendly quiz night at your favourite new
local. This will be a reoccurring event on the last Thursday of each month!
~~~ How it works ~~~
-Pre-register by emailing ordishquiz@gmail.com
-Turn up from 6.30pm for a 7pm start
-Max 6 people per team
-$20 per team (bring cash!)
-We have a maximum number of teams so best to get in quick or try your luck on the night
-Awesome prizes to be won
The bar will be open from 3pm with a great selection of local tap beers, wine and non-alcs.
Smoked and Pickled will be dishing up delicious kai to keep your brains switched on!
Vogelmorn Bowling Club is not a accessible building
Don't forget to pre-register by email at: ordishquiz@gmail.com
Not quizzing? No stress, we will still be open to the public!
Wonderplay Drama
DRAMA: Wonderplay has places available for kids drama in 

Island

 

Bay

 on Thursdays.
Join us for Term Two! Thursdays at 

Island

 

Bay

 Community Centre: 3.45-4.30pm: New Wonders (Intro to drama, 5yrs+), 4.30-5.30pm: Star Players (8yrs+).
Also ask about our award-winning Wellington Young Actors class for teens and Advanced Drama for 10-13 year olds (Wednesdays, CBD). First lesson is free to try.
Please contact Debs 
debs@wonderplay.co.nz
021-172-2836, 
www.wonderplay.co.nz
Pippins
Join in the fun at Island Bay Pippins. Being a Pippin with GirlGuiding NZ is a very popular choice for 5 and 6 year old girls. 
We welcome all girls interested to join our Unit in Island Bay at St Hilda's Church from 6-7pm on a Tuesday night during the school term. 
If you have a 5 or 6 year old daughter who would like to have fun then contact Dianna on phone: 04 3837518 or email meates21@gmail.com 
Harbour City Gymnastics
Gymnastics is a great and fun activity for developing confidence, coordination, strength and agility.
Harbour City Gymnastics, Hataitai Park, are currently taking in enrollments for term 1 and have spaces available in our Monday and Tuesday Ribbon Award 5-6 y/o class!
We also offer fun, safe, and educational preschool classes for your younger ones ages 3+. 
Email our office 
office@hcg.org.nz
 for further information or to register
Geckos Hockey

Geckos Hockey Club invites you to play hockey in 2023!

Wednesdays 4.00-5pm for yr5/6/7/8 At National Hockey Stadium Turf 3
Fridays 4-5pm for yr 1-4 at the Brooklyn Bowling Club astro turf at Tanera Park.
Give it a go, summer hockey in term 1 is free!
Just turn up on practice day and we take it from there.
We provide sticks and balls.
More info about Wellington's best little hockey club:
https://www.facebook.com/geckoshockeyclub/
https://geckoshockeyclub.weebly.com/
Wellington Young Voices Choir
Calling children who love to sing, ages 6 - 14, for the Wellington Young Voices Choir for 2023. WYV Choir performs at a wide range of events, from retirement villages to NZSO concerts.
Spotlight Performing Arts