Board of Trustees
Tēnā koutou Ridgway Whanau,
My name is Joanna Pohatu, my Iwi are Ngai Tamanuhuri, Rongowhakaata and Ngati Kahungungu. My husband Geoff and I have one son attending Ridgway School: Tawhiri Thomas (aged 7). Our eldest son, Kahurangi, also attended Ridgway up to year 6.
I have been involved with the Ridgway Whanau Hui group since my eldest son commenced school. I was the chairperson/secretariat for 3 years. The Whānau Hui group is a fantastic way to meet other parents who wish to support Ridgway school to grow and strengthen its tikanga Maori and Te Reo Māori to ensure we honour our commitment to Te Tiriti o Waitangi. I love the support the wider Ridgway whanau have given to our Matariki celebrations and kapa haka.
I am a Principal Adviser for the Ministry of Transport working in the Environment, Emissions and Adaptation team.
I am pleased to be part of Ridgway's Board of Trustees. I look forward to making a contribution to ensure our school continues to succeed and all of our tamariki have opportunities to do their best
---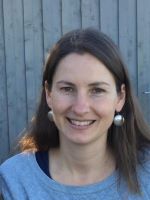 Kia ora koutou, my name is Barbara Dean. I have two children at Ridgway, Elsa in Year 4 and Naomi in Year 1. Their older brother has just left Ridgway to attend SWIS.
I work as a lawyer at the Ministry for the Environment. I have been on the board for 4.5 years and am currently chair. I really enjoy being involved in the Ridgway community.
---
Rachel Kirkman
I am the mother of Alex (Year 6 in Ruru La Chouette French class). I was co-opted onto the board in 2018 and am now Deputy Chair and manage the finance portfolio. I enjoy being involved with the school board and in my spare time I work at GNS Science as a Project Manager.
---
Cushla Thurston
Cushla's primary reason for applying for a position on the Ridgway School Board of Trustees is to share her professional experience as a practising architect in the education sector to help guide the major building project at Ridgway School which is under construction.
The major building project will affect us all in some way throughout the various stages of the project. The decisions made during the process will shape the architecture and the outcomes of the project affecting not only our current community but also future generations of Ridgway children and families. As a board member, Cushla will do all that is possible to help Ridgway School make the most of the incredible opportunity presented by the major building project.
Cushla and Richard's eldest daughter Nina year 3 Tui. They have another daughter Amadee (4 years) who will attend Ridgway from age 5.
---
You can email our board: ridgwaybot@gmail.com