COMMUNITY NEWS AND EVENTS
---
Soccer
We would like to put together a Ridgway BNU JFC grade 8 mixed team (for children turning 8 this year). Greg Finch (Freddie and Harvey's dad) will coach the team.
Thanks Liz
---
Dear Parent/Guardian,
My name is Michael Stewart and I direct the music at Wellington Cathedral of St Paul, opposite Parliament on Molesworth Street.

I am writing to you to let you know about the opportunity for children to gain a free music education and singing tuition at the Cathedral, an acknowledged centre of musical excellence.
We offer two choirs at the Cathedral: the first, the Children's Choir, is for children aged 5-8. In the Children's Choir members are taught basic musicianship and singing technique in a weekly rehearsal, and join with the Cathedral Choristers for a monthly Thursday evening service.
The Cathedral Choristers are a robed choir of 8-15 year old children, whose skills are developed in singing technique, music theory, public speaking and teamwork through two weekly rehearsals. They lead the weekly Thursday evening Evensong service, with choristers reciting the readings as well as leading all the sung components. The training that the Choristers receive has equipped many graduates to proceed on to national choirs, such as the New Zealand Secondary Schools Choir, and many of the world's leading singers can attribute their start in their profession to having been trained as chorister.
Please see the this
video
which illustrates a week in the life of a Cathedral Chorister presented by Archie Taylor, one of our graduates who has proceeded on to the NZSSC.
We currently have vacancies in both of these choirs. If you are interested in finding out more, please do not hesitate to contact me on 021 477 257 or at
dom@wellingtoncathedral.org.nz
.
Yours sincerely,
Michael Stewart
---
After-school Junior Chess
Wednesdays 3.30-5pm @ St Bernard's School, Taft St, Brooklyn
All abilities welcome, Ages 8-12.

Try your first session free - $75 per term
First session Wed 11 Feb.
Run by Mark Van Der Hoorn, a Wellington chess champion who runs school groups across the City and the Ridgway chess groups.

To enrol or enquire, please contact Ivan - ivancmoss@gmail.com or 021 417 025
---
Guitar, Ukulele, Bass Guitar, and Singing lessons are available with
music tutor Andrew McPartlin.
The lessons are held at school starting on Thursday the 14th of February
and the cost is $11 per session.
Contact andymcpmusic@outlook.com or 0210323659 for bookings or more
information.
---
---
Keeping families safe and well together! Come to a free family friendly karate or fitness classes in Brooklyn and Vogelmorn. Call Sensei Patricia on 027 297 6049 or email:
patricia@familyfitkarate.co.nz
---
---
All Star Victory Cheerleaders have added more one hour cheer basics classes .

A fun but disciplined team sport with positions for everyone.
We are offering free trial classes for boys and girls, you don't need any skills to get started
We can teach you .
10 - 18 yrs 7.30 - 8.30 Wednesday at The Circus Hub 11 Hutchinson Rd Wellington .
5 - 9 year classes Wednesday 4.30 - 5.30pm or Sunday 2.30 - 3.30pm.
---
Come and play hockey with Brooklyn Geckos Hockey Club at the Brooklyn Bowling Club astro turf at Tanera Park.
Every Friday, 4-5.15pm.
For yr1-5 and new entrants
Give it a go!
Just turn up on practice day and we take it from there. We provide sticks and balls.

---
---
MOGMUSIC Private tuition available in
PIANO, RECORDER, GUITAR & UKULELE
Places available now. All lessons held at MOGMUSIC studio in Brooklyn.
Please phone MOGGIE GRAYSON 3848-213 to book in. $20 will be donated to the school for each new enrolment.
Places available for this term.
---
Fencing classes for children with Wellington Swords Club
Children 6 - 11yrs Tuesdays 6 - 7pm Tanera Park, Brooklyn (Old Bowling Club)
Wednesday 6 - 7pm Tanera Park, Brooklyn (Old Bowling Club)
Children 11+ Saturdays 9 - 10.15am Wellington High School gym, Taranaki Street
Other classes and individual lessons, college, adults, social, beginners to international
Contact Head Coach: Vicci Lamb (T) 970 7496 or bishop.lamb@pistingaround.com
Wonderplay drama classes have places available this term or 4-8 and 9-12 year olds as well Advanced Drama for 11-13 year olds. Classes are on Wednesdays and Thursdays at Island Bay Community Centre. First lesson is free to try. Please contact Debs
debs@wonderplay.co.nz
021
-172-2836, www.wonderplay.co.nz
---
BROOKLYN PIPPINS
We are currently looking for new girls to join our group. Pippins is a part of the Girl Guide movement and is for girls aged 5 to 7 years old. We meet on a Monday night from 6pm to 7pm at the Reformed Church on Harrison Road Brooklyn. Each night is something different and includes a wide range of activities, learning points, skills and collecting of badges. If your interested or would like to know more contact Madi on 0276622104 or at
madiline1@hotmail.com
.
GirlGuiding New Zealand enables girls and young women to develop their full potential and make a difference in the world.
Koha Yoga Vogelmorn Hall
Tuesday 9.15 -10.30 am - Vogelmorn Hall (across the lawn from the Bowling club)
No previous yoga experience needed- classes are open to all levels and all ages. Please feel free to bring your children along. Yoga mats and bolsters provided, however you may like to bring your own as we can run short on busy days. Suggested Koha is $5 - $10 per class as they are not funded. The kaupapa of community yoga is to make it accessible for everyone and therefore no one will be turned away.
For more information about me and the type of yoga I teach, please check out the
link here
.
---
Springboard & Platform Diving at Kilbirnie Pool
Wellington Diving Club has a range of diving classes for kids aged 5 years and up (plus separate Adult training sessions).
Visit our website and come along for a free Trial Lesson! We have several after-school sessions and cater for kids of any level from beginners to competitive. We also run fun casual sessions on Sunday afternoons.
For more information, please visit our website www.wellingtondiving.org.nz or call/text Barbara on 027 485 8888.
---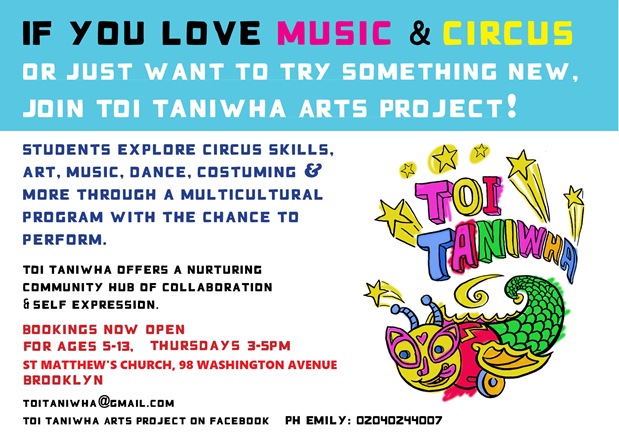 ---
Join the challenge to have fun….at Pippins, Brownies or Guides
Being a member of GirlGuiding NZ is a very popular choice for 5 -19 year old girls and it is great to be able to offer the opportunity to more girls to join our units in Brooklyn on a Monday night in school terms.
Guiding is about learning, developing self-confidence, making new friends and, of course, having lots of fun.
If you have a daughter who likes to have fun then contact Kathryn on ph: 8025049 or email brooklyn.brownies@gmail.com or visit www.girlguidingnz.org.nz
---
---
Encouraging young people to make their own decisions and to explore the world around them, since July 1909

Try something new. Boys and Girls from 5 ½ years old up to 18 years are welcome. First month free, come and have a look, 24 Harrison Street
Brooklyn
Wellington 6021
www.brooklynscouts.org.nz
---